IDEAS FOR BUSINESS
What ELSE can I offer my customer?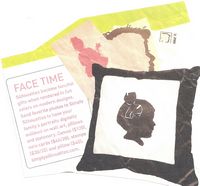 Featured in a national magazine, this is a wonderful gift item you can offer customers. This company sells a pillow for $40, a canvas for $120, stamps $30 for 20 and note cards $40 for 20.
The Yudu by Provocraft is a one-at-a-time screenprinter that uses water based inks and would be perfect for creating silhouette gifts.